Written by: cryptoclass on December 18, 2017
Here Are All The Ways You Can Buy, Trade, And Invest In Bitcoin
Bitcoin trading got a bit easier this week for the average retail investor when Cboe Global Markets Inc CBOE 0.25% launched bitcoin futures trading for the first time. Trading bitcoin may still not be as simple as trading most stocks, but it has made huge strides toward becoming a mainstream investment in 2017.
Here's a look at all the ways traders can play bitcoin and what may be coming next.
Coinbase
Coinbase is a cryptocurrency exchange and trading platform that allows customers to trade bitcoin directly. Coinbase even offers margin trading for traders who qualify under the Commodity Exchange Act. These qualifications are geared more toward institutional investors than small retail traders. Requirements include at least $5,000,000 in discretionary investments for individuals.
GDAX, which is owned by Coinbase, is a platform that allows active trading of bitcoin, as well as Litecoin and Ethereum. Other popular exchanges are Bitttrex, Gemini, and Poloniex.
The GBTC ETF
Grayscale Investments' Bitcoin Investment Trust GBTC 19.38%, trades on the OTC Market and invests directly in bitcoin. Unfortunately for investors, the GBTC ETF trades at a significant premium to its net asset value. The ETF is currently priced 49.5 percent above NAV, according to Bloomberg.
Bitcoin Options
In May, bitcoin options exchange LedgerX raised $11.4 million in funding to follow-through with its plan to operate a regulated cryptocurrency exchange and clearing house.
In October, the Commodity Futures Trading Commission officially approved LedgerX for derivative clearing, which began later that month. LedgerX reportedly handled more than $1 million in bitcoin derivatives trading in its first week.
Benzinga will bring together some of the Street's vying voices next week during the PreMarket Prep Bitcoin Special. The free webinar will run Tuesday, Dec. 19, from 8 a.m. to 9:30 a.m. EST. Register for the webinar here!
Bitcoin Stocks
There are a handful of companies that are invested or involved with bitcoin or the cryptocurrency's blockchain technology. These stocks come with their own risks and will have a looser correlation to bitcoin price movements than trading the cryptocurrency directly. Here are a few:
Several of these companies are small-cap stocks with all the volatility that comes with the territory.
Bitcoin Futures
The closest thing for traders to trading bitcoin in their trading accounts like an actual stock is the new Cboe XBT bitcoin futures contracts. After confirming that the account meets the necessary requirements, buying and selling bitcoin futures is as simple as entering the XBT ticker and clicking "trade."
CME Group Inc CME 0.35% is expected to launch bitcoin futures trading Dec. 17, and Nasdaq Inc NDAQ 0.31% has said it plans to launch bitcoin futures trading sometime in early 2018.
Where To Trade Bitcoin
Several of the most popular online brokers are already allow bitcoin futures trading, and many more have said they will sometime soon:
Interactive Brokers IBKR 0.91% allows long and short bets on bitcoin futures.
TradeStation has said it will support Cboe bitcoin futures.
Ally Financial has said it will support bitcoin futures trading.
TD Ameritrade, Charles Schwab, E-Trade and Fidelity are reportedly taking a "wait and see" approach before allowing Bitcoin futures trading on their platforms. (Editor's note: TD Ameritrade announced late Friday it will allow bitcoin futures trading beginning Dec. 18).
A Big-Board Bitcoin Listing
Of course, many investors would only consider investing in bitcoin if they could get access to the currency directly via an ETF listed on either the Nasdaq or the NYSE. The Securities and Exchange Commission has rejected multiple proposals for big-board-listed bitcoin ETFs, including the proposed COIN ETF backed by the Winklevoss twins.
The SEC has concerns over the lack of regulation of the bitcoin market, but has left the door open for additional proposals. There have reportedly been more than a dozen bitcoin ETF filings that for potential SEC approval, meaning a major Bitcoin ETF with all the regulatory protections of a major exchange listing could be on the way in a matter of months.
Written by: cryptoclass on December 18, 2017
Amazon's

$1.91 Trillion

 Bitcoin Shock

"With one single move, Amazon will shock the world and create an opportunity for anyone to turn $100 into a retirement fortune in the next 12 months…while minimizing your risk."
– James Altucher, crypto millionaire

WARNING: This opportunity disappears on February 2, 2018 at 4p.m.
Dear Reader,
Just a few days from now…
Retail giant Amazon will create a once-in-a-generation opportunity…
For anyone to turn a single $100 bill into a retirement fortune in the booming cryptocurrency market…
… in a matter of months.
Once Amazon executives utter the 5 words you see below…
They'll release a wealth explosion like we've never seen before…
A potential $1.91 trillion money revolution.
And it could begin as early as February 2!
But I have to warn you…
What you're about to read is a bit controversial…
I've already received hundreds of hate tweets for publicly speaking about this announcement.
They've accused me of "pulling a stunt…"
And called me "fake news guy" and a "con artist."
But guess what?
Just a few days after I first went public with my findings…
Some shocking news about Amazon broke…
A "smoking gun" that essentially confirms this could happen as early as February 2…
Disrupting the entire $1.91 trillion e-commerce market.
I'll show you that "smoking gun" in just a moment.
But here's what you need to know right now…
If you're not positioned in the right cryptocurrencies…
You could be cheating yourself out of the only chance you'll EVER have…
To turn a single $100 bill into a retirement fortune… in a matter of months.
And it couldn't be easier.
Even if you know nothing about cryptocurrencies…
All you have to do is follow my instructions below BEFORE Amazon makes the announcement.
And no, I'm not talking just about buying Bitcoin… the "granddaddy" of all cryptocurrencies.
The quick fortune in Bitcoin has already been made by those who got in early, when Bitcoin was trading for cents.
Right now, the BIG money is in the smaller cryptocurrencies.
Because unlike the "expensive" Bitcoin…
Many of These Lesser-Known Digital
Currencies Are Trading for Pennies!
In fact, I already made an investment that returned a total profit of $1.8 million…
From one single cryptocurrency trade!
And I recently bought another cryptocurrency for just 52 cents!
It's already up 800%… in just three weeks!
Many other cryptos are trading for pocket change.
That means you could get started with a single $100 bill…
And if you take a position before the Amazon shock…
You could cash out with a retirement fortune just a few months from now…
Just like what happened with early Bitcoin investors.
I know that's a huge claim…
But this kind of get-rich-quick opportunity is ALREADY happening.
Look what happened with Verge, a new cryptocurrency that improved upon Bitcoin's privacy technology…
Most people have never heard of it…
But had you invested a single $100 bill earlier this year…
You could have cashed out with $57,236…
In a little more than two months.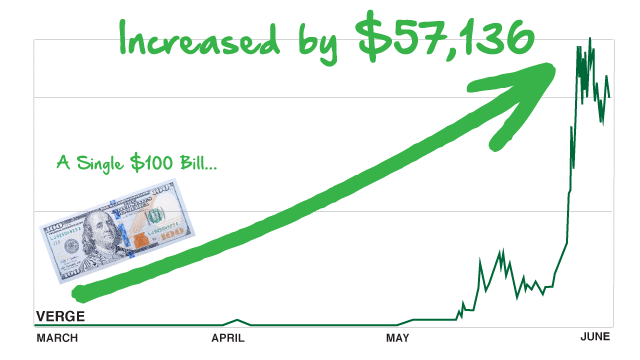 Isn't that incredible?
In my entire 30+ year career on Wall Street…
I've never seen any other investment that could make as much as 572 times your money… in just a couple of months.
And Verge is not the only cryptocurrency that's booming.
Look what happened with DigiByte, a digital currency designed to protect its users against cyber threats.
Just a few months ago, you could have bought it for pennies!
And had you put in $100 earlier this year…
It would have ballooned to as much as $30,628.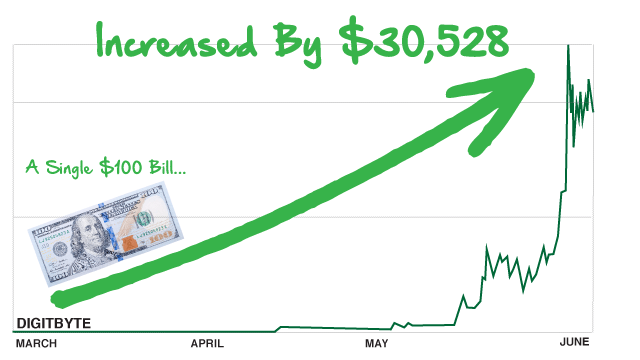 Again, this explosion happened in a matter of months.
And you can make even more money if you're a little more ambitious.
The more you put in… the higher your gains.
In the case of DigiByte, for example…
You could have turned a $2,000 investment into a $612,578 retirement fortune.
Most people can't make that kind of money in their lifetime.
And yet, you could have done it in just a couple of months earlier this year.
Amazing, right?
Something similar happened with another cryptocurrency called Nexus…
Had you invested $100 when it was trading for pennies…
You could have walked away with $66,666!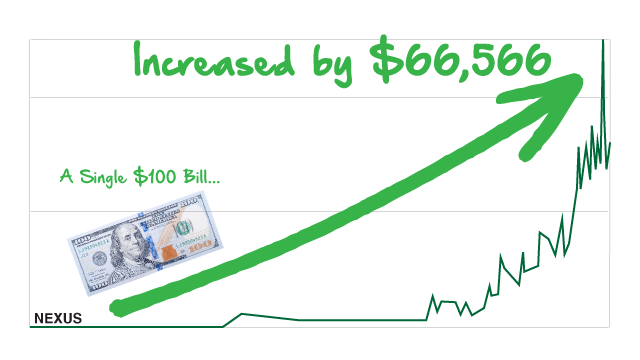 Invest a little more, say, $2,000…
And you'd be looking at an incredible payout of more than $1.3 million.
Imagine…
You, a certified millionaire in a matter of months… from one single trade.
Of course, past performance doesn't always equal future success.
There is no such thing as absolute certainty when it comes to investing…
Which means you might not see gains 100% of the time.
But do you see now why historians will call this the biggest financial boom ever?
And here's the thing…
As incredible as these gains are…
That's just a small taste of what's coming in the next 12 months.
How do I know that?
Because Amazon could be about to release $1.91 trilion in new crypto wealth…
Giving you the chance to turn $100 into a retirement fortune in the coming months…
All while minimizing your risk.
That's the good news.
Now, here's the bad news…
Like every single boom in history, this cryptocurrency bonanza won't last forever.
In fact, it could be all over by next year.
And when it's over, you'll NEVER see a get-rich-quick opportunity like this again…
Not in your lifetime.
What does that mean for you?
It means today you have a very small window of opportunity to act…
One that's closing with each passing day. In fact…
Every Day You Wait, Someone Else is Growing Rich from Cryptocurrencies
Just take a look at the recent gains from some of these digital currencies…

These are NOT annual gains.
These are NOT monthly gains.
These are gains that happened in a 24-hour period!
Some of these cryptocurrencies are jumping 28%… 49%… and even 90%…
In a SINGLE DAY!
Look at your retirement statement right now…
I have no idea what you're doing with your money…
But I guarantee you're NOT making these types of daily gains.
These gains are unheard of!
It's why historians will call this the biggest BOOM ever!
And if you miss it…
I guarantee you'll regret it for the rest of your life.
That's why I'm writing this urgent message…
To show you how to position for the Amazon shock…
But Before I Give You All the Details I Should Probably Introduce Myself
Hi, I'm James Altucher.
If my name sounds familiar, maybe you've read one of my 18 books, including best-sellers The Power of No and Choose Yourself…
Maybe you've read some of my articles published in The Wall Street Journal, The Financial Times and The New York Observer…
Or listened to my podcast "The James Altucher Show," which has more than 20 million downloads.
If you look me up online, you'll see that the popular website Wikipedia describes me as…
"A hedge fund manager, entrepreneur, best-selling author, venture capitalist and podcaster who has founded or cofounded more than 20 companies."
I guess they forgot to mention I'm also a computer nerd.
I wrote my first computer program in 1982 on an Apple II+…
And I've been a coder and hacker for the past 35 years!
I'm telling you this because when it comes to cryptocurrencies…
That's a BIG deal.
You see, these digital currencies are created by computer programmers.
That means you can only fully understand them if you can read the code behind each currency.
And that's my bread and butter.
I even know many of the computer geeks who are actually developing these currencies.
And thanks to my nerdy background, I've been neck deep in cryptocurrencies since 2013.
In fact, that same year I created what was probably the first Bitcoin online "store"…
Where I presold my book Choose Yourself exclusively on Bitcoin.
At the time, CNBC even invited me to talk about it on live TV.
The anchor was totally skeptical of Bitcoin.
He insinuated I didn't really care about cryptocurrencies… and was just pulling a marketing stunt.
You can see my shocking response in the 30-second clip below…
While I was telling everyone Bitcoin would succeed…
The mainstream media was saying the exact opposite.
A contributor for Business Insider called Bitcoin "something strange." And they questioned "why anyone would think it's useful."
A CNN op-ed said it was "a big scam designed to enrich its shadowy creators"… and "a bubble that could soon pop."
And Slate published an article with the headline "Bitcoin is a Ponzi scheme — the internet's favorite currency will collapse."
So if you missed the Bitcoin boom, it's not your fault.
The mainstream media simply "brainwashed" most Americans into thinking Bitcoin was a scam.
Well, had you ignored the clueless mainstream media…
And listened to what I said on CNBC instead…
You would be up 3,710% today.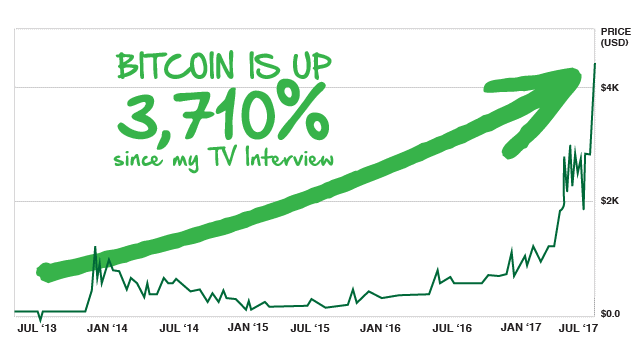 That's more than 38 times your money in the last four years…
Enough to turn a small retirement account of 10 grand into a $381,044 retirement fortune!
I'm telling you this because I want you to realize that the mainstream media is clueless when it comes to new technologies.
Case in point…
Let Me Show You One More Example Where I Was Actually Mocked on Live TV
In 2007, shortly after Yahoo offered to buy Facebook for $1 billion…
I went on CNBC and predicted the company would be worth at least $100 billion.
They thought I was crazy. And I was actually mocked on live TV.
You can see the short 30-second clip below. (It's quite entertaining.)
Today, Facebook is worth more than $400 billion…
And had you bought shares 5 years ago, you'd be up 870%!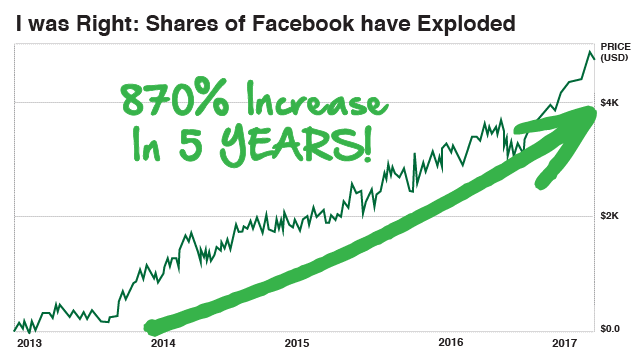 A few years after I made my Facebook prediction, CNBC published this headline… admitting I was right!

Bottom line…
Don't expect the mainstream media to show you how to make a fortune from new tech trends, including digital currencies.
Because they're always late to the party.
Without my 3-step script, they're totally lost.
Not to mention that there's a lot of misinformation out of there…
Some of my followers are getting scammed into investing in the wrong cryptocurrencies.
That's why I've made it my mission to reveal the TRUTH about making money in this booming market.
It's time for me to set the record straight.
So please pay close attention…
Because in the next few minutes, I will show you how I'm preparing for this Amazon shock…
I'll show you what I'm doing with my own money… my family's fortune… the money I plan to leave to my kids and grandkids.
Then you can decide for yourself if this is right for you.
But the truth is…
Dozens of Cryptocurrencies Are Exploding 3,475%, 21,611% and Even 81,465%… in a Matter of Months
Take a look…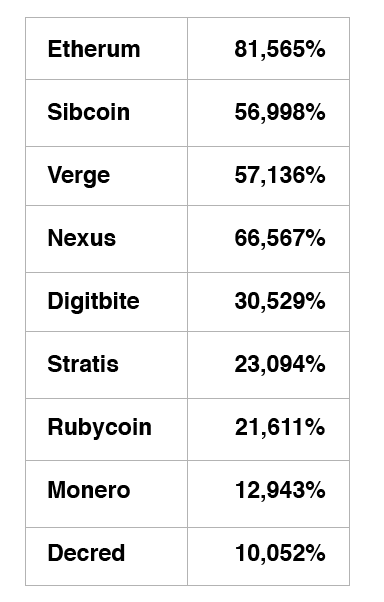 The few people who understand what's going on are already making a life-changing fortune.
People like Alan A., a 47-year-old San Franciscan.
Less than a year ago, he bought three digital currencies…. Ether, Golem and Gnosis.
Within six months, he turned his $8,500 initial investment into $7.5 million!
That's a return of 88,000%… in a matter of months!
Incredible, right?
Sean I. from New York scored big wins in cryptocurrencies like Game, Litecoin, Ripple and Dogecoin.
And he was able to turn his initial stake of $15,000 into a $3 million fortune…
In less than two years.
After becoming a crypto millionaire, he said:
"Anybody right now with half a mind and at least four fingers can click some buttons and get in on this inevitable exponential rise in crypto and make an INSANE amount of money."
As amazing as these gains are…
That's just the beginning…
A small taste of what's coming.
Because on February 2, Amazon is hosting a special event at precisely 4 p.m.
And if their executives utter the 5 words you'll see below…
It will trigger a mad rush into cryptocurrencies.
If you take a position right now…
In the right cryptos (I'll show you which ones)…
You could turn a single $100 bill into a retirement fortune in the next 12 months.
And don't worry if you've never invested in cryptocurrencies before…
Even if you have no clue what a digital currency is…
You could still walk away with a life-changing fortune…
Because I've put together an exclusive beginner's guide package just for you.
And I'd Like to Send You This Cryptocurrency Package… FREE of Charge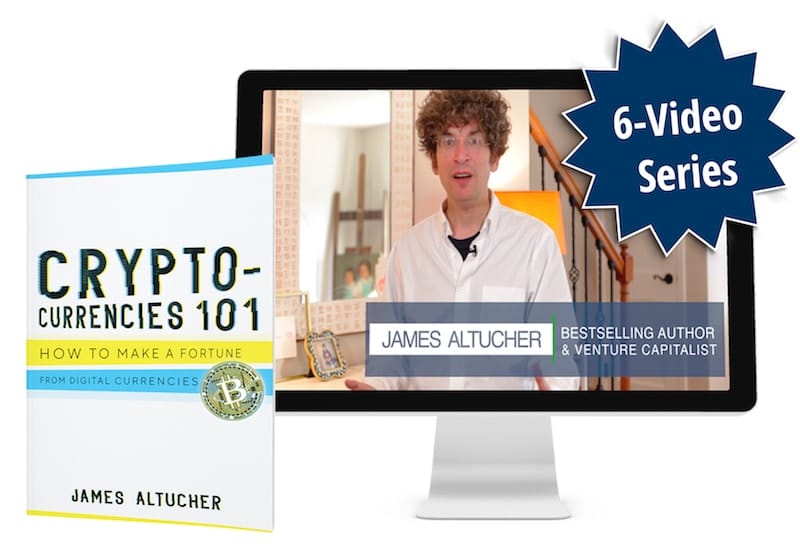 It includes my brand-new book called Cryptocurrencies 101: How to Make a Fortune From Digital Currencies (not available on Amazon or anywhere else)…
And…
A never-before-released 6-video series Masterclass on Cryptocurrencies, where I'll walk you step by step through the entire process.
As far as I know, there's nothing like this out there.
I could probably charge hundreds of dollars for this package.
But for reasons that will become clear soon, I want you to have it for FREE.
I'll show you how to claim it in just a moment.
And there's no time to waste. In preparation for the Amazon shock…
The Smart Money is Going All In
With hundreds of cryptocurrencies exploding 3,475%, 21,611% and even 81,465%…
The smart money is now investing in these smaller, lesser-known digital currencies.
Forbes even published the following headline recently…

And went on to say:
"Given how many new crypto millionaires have been minted… old hands in finance who want in on this new world of value are launching funds."
Aside from these 15 new hedge funds…
There are 70 more in the pipeline!
Once all these 70 funds get set up, billions in new capital will flow into these cryptocurrencies…
Helping push them even higher.
Ronni Moas, founder of Standpoint Research, explains this gold rush:
"The floodgates are opening. I believe there are hedge funds and very deep-pocketed individuals going into this now, really hundreds of millions of dollars."
And get this…
Fidelity, which has $6.2 trillion in assets under management, has just partnered with Coinbase, the most popular cryptocurrency exchange.
Imagine what will happen if some of those trillions start moving into cryptos!
Simply put, institutional investors are jumping in with both feet.
And to Prove My Point,
Here's an "Inside Scoop"…
Andreessen Horowitz and Sequoia Capital are two of the most highly respected venture capital firms in Silicon Valley.
That's because they tend to see major technology trends before anyone else.
They've made billions by investing very early in social media companies like Facebook, LinkedIn and Twitter.
Simply put, when these guys invest in something new, you should pay close attention.
Well, Forbes has just reported that they're "secretly" investing in a cryptocurrency fund called MetaStable.
And I knew that way before the media reported on it. How?
Because I'm good friends with one of the founders of the fund.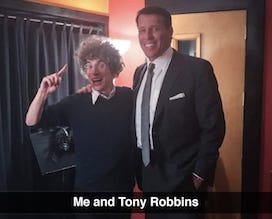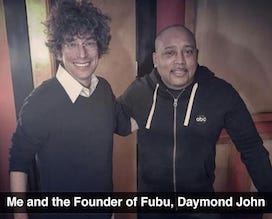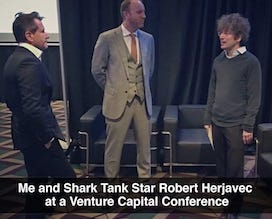 You see, in the last 30 years I've built connections that go from the head of Google X (Google's experimental laboratory)…
To Peter Thiel, founder of PayPal and early investor in Facebook…
To billionaire Mark Cuban, owner of the Dallas Mavericks and "Shark Tank" TV show star.
I'm also connected with just about every big hedge fund manager in Manhattan…
And every major venture capital firm on both the East Coast and in Silicon Valley.
I can see behind the scenes that the "smart money" is now getting heavily involved in cryptocurrencies.
My billionaire friend Mark Cuban is investing in it… Google is in it… and so is billionaire Richard Branson.
With All This Money Flowing In, It's No Wonder Many Cryptocurrencies are Exploding this Year
Remember when I said you could turn $100 into a retirement fortune?
Look what happened with a little-known cryptocurrency called NEM.
It has jumped as high as 291,142% in the last couple of years.
That's enough to turn a single $100 bill into $291,242.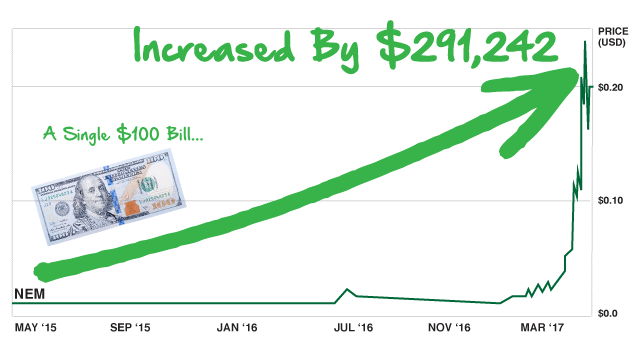 That's more than three times what the average retiree has in their retirement account.
Amazing, right?
Imagine adding almost $300,000 to your nest egg…
Starting with just $100… in just a couple of years!
That's the power of these smaller cryptocurrencies.
Or look what happened with another digital currency called Ethereum…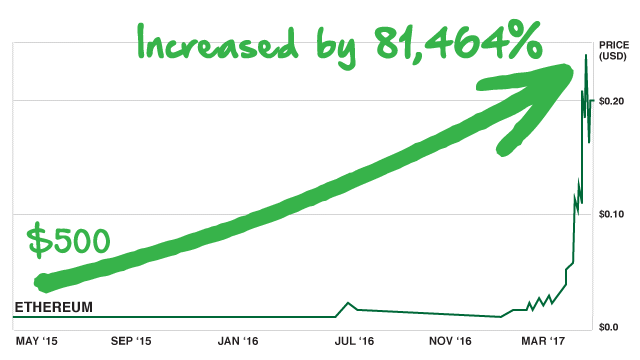 Had you put in just $500…
It would have ballooned into a retirement fortune of as much as $407,822… in just a couple of years.
And if you invested a little more, you could've literally walked away with millions.
For example, a $5,000 investment in another cryptocurrency called SibCoin…
Could have paid you a $2.8 million fortune… in a matter of months.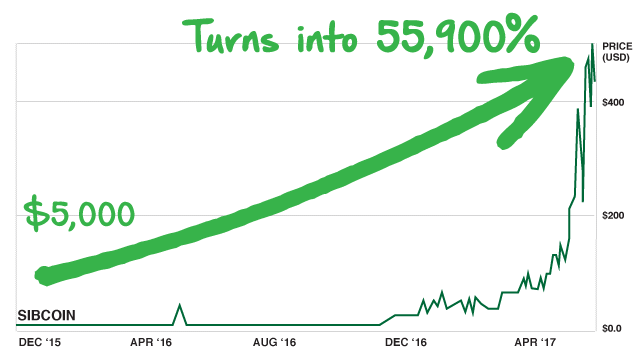 Isn't that incredible?
No wonder the "smart money" wants a piece of the pie.
Look, I recently had lunch with several hedge fund managers and other "Wall Streeters" in New York…
And they were all asking me about cryptocurrencies.
They want to know how to get involved…
Because they know we'll NEVER see a boom like this again.
But While the "Smart Money" is Going All In… Everyday Folks Are Totally in the Dark
If you don't know anything about cryptocurrencies, don't worry.
You are NOT alone.
Despite the massive investments from "the smart money"…
Despite all the newly minted millionaires…
And despite this exploding market…
Most people don't even know what a cryptocurrency is.
To this date, less than one in ten thousand people has invested in Bitcoin.
Just ask your friends, spouse and neighbors what they think of Ethereum, Litecoin and Monero.
I bet they'll have no clue what you're talking about.
That's because the masses are NOT participating in this boom.
Not yet!
Professor Panos M., Chair of the Department of Economics at Long Island University in New York, agrees with me.
He said we're still missing "a broad participation beyond the 'pioneers' and the 'early adopters.'"
It's only when the public joins the trend that we'll see the biggest gains.
It's the masses that will push cryptocurrencies to the moon.
And That's Exactly What's Set to Happen on February 2
You see, with cryptocurrencies minting new millionaires seemly everyday…
This epic boom is starting to grab some headlines.
Take a look…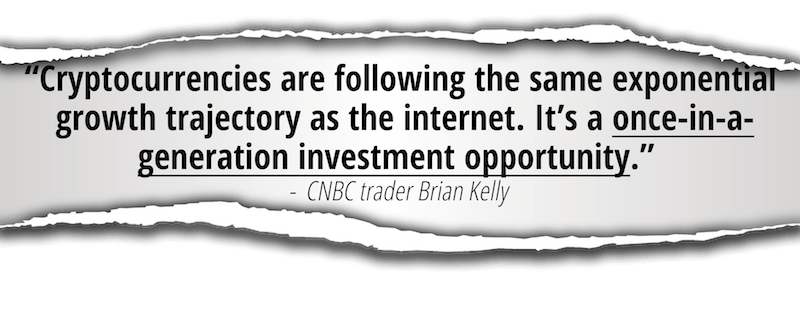 With cryptocurrencies gaining publicity…
The masses will NOT remain on the sideline for much longer.
In fact, I want you to mark February 2 on your calendar…
Because this Single Event is About to Catapult Cryptocurrencies into the Most Explosive Stage of the Boom
Simply put, this event will trigger a buying frenzy…
And help mint a new round of crypto millionaires.
You see, big tech companies like Microsoft and Overstockare already accepting Bitcoin as a form of payment.
But what would happen if the world's largest online retailer started doing the same?
We're about to find out…
Because with the popularity of Bitcoin exploding…
With people like Bill Gates saying cryptocurrencies are "the future of money"…
And with big economies like Japan legalizing Bitcoin as a form of payment…
I am certain that Amazon WILL ACCEPT Bitcoin.
They have no choice.
And if other retailers follow their lead (like they always do)…
This will not only revolutionize the entire $1.91 trillion e-commerce market…
But also create massive generational wealth unlike we've ever seen before.
When I first went public with this idea, I received tons of hate messages.
But just a few days later, CNBC broke the news:
"Amazon has secured three new domain names related to cryptocurrency, sparking speculation that the e-commerce giant could be preparing a move into the cryptocurrency space."
Yes, retail giant Amazon.com registed these three domains…
amazonethereum.com…
amazoncryptocurrency.com…
And amazoncryptocurrencies.com.
Why would they do that if they had no interest in cryptocurrencies?
If you were looking for a smoking gun, it doesn't get better than that.
Make no mistake…
Amazon executives will soon say these five words:
"We Are Now Accepting Bitcoin"
Of course, only CEO Jeff Bezos knows for sure when that will happen…
But given the fact that Amazon has been laying the groundwork…
It could happen as early as February 2, at 4 p.m., during its next earnings conference call.
Which is why you need to act RIGHT NOW.
You see, eBay, Amazon's biggest competitor, has already expressed interest in accepting Bitcoin payment.
And according to Overstock CEO Patrick Byrne, Amazon will soon have no choice but to start accepting Bitcoins. He said:
"They have to follow suit. I'll be stunned if they don't, because they can't just cede that part of the market to us, if we're the only main, large retail site taking Bitcoin."
Look, Amazon Web Services has already been working with Digital Currency Group, one of the biggest investors in the cryptocurrency technology.
And Amazon executive Scott Mullins has confirmed it…
Amazon is "working with financial institutions and [crypto experts] to spur innovation and facilitate frictionless experimentation."
Once they make the announcement, the impact on cryptocurrencies will be huge.
We'll see a buying frenzy like never before.
It'll be like a Black Friday crowd at Best Buy.
Only those who get in early will get a good deal.
Most people will be left out.
That's why I urge you to get in right now…
Get ahead of the crowd…
Ahead of the massive buying frenzy that will push cryptocurrencies straight up.
If you get in before February 2…
You will have a rare chance to turn $100 into a retirement fortune.
After that date, this window of opportunity will be slammed shut forever.
You'll never see an opportunity like this again… not in your lifetime.
But DO NOT Rush to Buy Every Cryptocurrency Out There!
You see, right now there are 840 cryptocurrencies available.
And if you blindly buy any of those…
There's a 95% chance you'll lose all your money.
That's because 95% of them are worthless… and will eventually go to zero.
Here's the truth you won't hear anywhere else…
Many of these digital currencies don't have the technology necessary to make them a viable form of money…
Some can be printed willy-nilly…
Others can be easily hacked…
And others are simply a scam.
How do I know that?
Because aside from being a computer coder myself…
I know other computer hackers who have looked into the codes of these currencies.
For example, one of my contacts analyzed the cryptocurrency The DAO… and discovered it was very susceptible to hacking.
I stayed away from that specific digital currency.
Sure enough, it was hacked… and investors lost millions.
Look, I'll be the first to concede that most of these tiny cryptocurrencies are risky speculations…
But if you're avoiding ALL cryptocurrencies, well…
You're costing yourself tens of thousands… even millions of dollars!
Because the truth is…
Cryptocurrencies Are Here to Stay!
They're doing to money what the internet did to mail.
It's the future of money.
Saying cryptocurrencies are going away, it's like saying the internet is going away.
It's not going to happen.
But you'll only make money if you buy the RIGHT cryptocurrencies!
Remember what happened during the 1990s tech boom?
A lot of people made a fortune during the boom.
I personally made $15 million in 1998 alone.
And those who invested in enduring companies like Amazon, Google and eBay got very, very rich.
At the same time, scores of foolish day traders and IPO junkies got crushed…
Because they invested in the wrong tech companies…
Companies that were worthless garbage.
That history is repeating itself right now in the cryptocurrency space.
Only a handful of these digital currencies can really help you make money…
And I want to show you which ones.
Everything You Need to Know is
Inside this FREE Package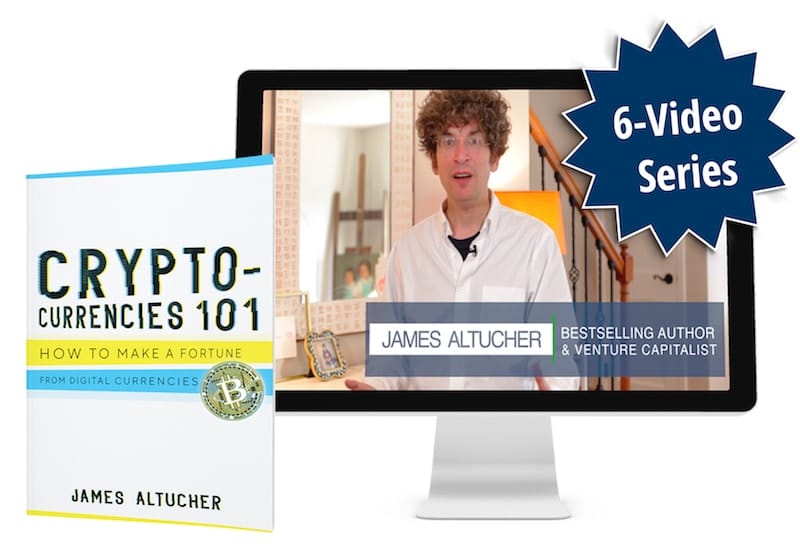 To help you get started, I'd like to send you this FREE package…
Which includes my brand-new book and an exclusive 6-video series Masterclass on Cryptocurrencies.
This package is NOT available on Amazon or anywhere else.
But I've reserved a free unit for you today.
Inside the book Cryptocurrencies 101: How to Make a Fortune From Digital Currencies, you'll discover…
***The #1 cryptocurrency to buy right now. (No, it's not Bitcoin.)
It's already up 3,432% this year alone.
But that's just the beginning. With Fortune 500 companies, like JP Morgan Chase, Intel and Microsoft, investing in this currency… the potential here is really explosive.
Even better… it's trading for a fraction of Bitcoin's price.
But it won't remain cheap for long. See the details on page 37.
***The #1 mistake cryptocurrency investors are making right now.
This could be the most important part of the book.
Because a lot of people who are making this mistake will get wiped out. But you will NOT be one of them. (See page 43.)
***The computer geek secret to make sure your crypto account will NEVER be hacked.
Hint: You can do this even if you know nothing about computers. See page 25.
***The 3-step screening process my team of venture capitalists used to pocket $1.8 million in a matter of months.
With these 3 simple steps, you'll be able to tell which cryptocurrencies are legit… and which ones are a scam.
If a currency does not check all these 3 boxes, forget about it. (Page 50.)
***How to invest in the booming cryptocurrency industry directly from your retirement account.
With this secret, you will not need to fill out extra paperwork… or open an account with a digital currency broker.
You can even use your IRA. Simply follow my instructions on page 61.
And much, much more…
You'll find everything you need to get started inside this FREE book…
From the philosophy behind digital currencies… to opening an account… to finding the right currencies to buy.
And don't worry, investing in cryptocurrencies is so easy a kid can do it…
Just look at Erik F., a 12-year-old kid from Idaho.
He started with a small investment of $1,000 in Bitcoin…
And was able to turn that into a $1.2 million fortune.
If he can do it, anyone can!
And to make your life even easier…
This Package Also Includes A Never-Before-Released 6-Video Series Masterclass on Cryptocurrencies
You see, rather than just leaving you with a book…
I wanted to walk you step by step through the entire process… on camera.
So here's what I did…
I used my contacts in New York to select four people who knew nothing about cryptocurrencies.
I put them in a room with me… and got the cameras rolling.
These are everyday folks just like you…
People who want to make a fortune from cryptocurrencies…
But don't know how to get started.
I wanted to prove to you that anyone can do this.
I've recorded everything and I'd like to send you this 6-video masterclass for FREE.
I'll personally "hold your hand" and teach you everything I know about how to make money from cryptos.
In a moment, I'll show you how you can access everything.
First, you might be wondering why I'd go through all this work…
Why not just keep this information to myself and make a fortune?
To answer that, let me tell you a very personal story that explains everything…
How My Bank Account Balance Went from $15 Million to Just $143
As I mentioned, I'm already profiting from cryptocurrencies…
And my team of venture capitalists even banked $1.8 million recently.
But life has not always been this "easy" for me.
You see, a few years ago I lost my entire life savings.
Back in 1998, I made $15 million when I sold my first company, called Reset.
But I was young and stupid.
And within three and a half years, I went from millionaire to having just $143 left in my bank account.
Let me tell you…
It's not a good feeling when you have no clue how you'll pay your mortgage… or your children's education.
I was so broke and depressed that suicide crossed my mind.
I thought maybe my two little girls would be better off with the $4 million payout from my life insurance policy.
But then I recovered… got my act straight… and launched new, successful businesses.
And here I am…
Today I'm doing everything I can to make sure my kids and grandkids will NEVER go through the financial nightmare I went through.
And I don't want YOU to go through that either.
Today you have a once-in-a-generation chance to secure a comfortable retirement… once and for all.
I sincerely believe those who take the right steps today could make a killing from cryptocurrencies.
A year from now, you could be traveling around the world…
Spending time in your new luxury home in the south of France…
Or simply drinking a cocktail with your loved ones in some exotic beach…
With the peace of mind that only comes when you KNOW you'll never have to worry about money again.
I'm talking about making enough to fund your entire retirement…
And still leave money for your kids and grandkids.
You Can Get Started Today with this FREE Cryptocurrency Package. Here's How to Claim It
Even though cryptocurrencies are the best investment opportunity I've seen in my 35- year career…
It's not the only investment trend I follow.
In fact, on the first weekday of every month…
I publish a monthly income and opportunity briefing called The Altucher Report.
I decided to launch this briefing because I know America is changing in profound ways.
If you want a comfortable retirement…
You can no longer rely on conventional institutions like the government, Wall Street firms or corporations.
The truth is… if you don't choose the life you want to live…
Chances are, someone else is going to choose it for you.
And the results are probably not going to be pretty.
And that's my mission in The Altucher Report…
To help everyday American retirees end their reliance on conventional institutions…
And learn how to grow your wealth and create your own streams of income…
So you can live your retirement exactly how you want…
Without EVER having to worry about money.
The Altucher Report is the only place where I'll personally update you on emerging new ways to earn more income and grow your wealth…
It could be a new business idea…
A potential deal with someone in my vast network of contacts…
Or an explosive investment in a new, disruptive technology.
Whenever I come across a unique opportunity, I'll tell you when to buy.
I'll tell you when to sell.
And I'll give you all of my analysis behind each recommended move.
No guesswork.
It couldn't get easier.
And you can start today by claiming your FREE Cryptocurrency Package.
I'll send it to your doorstep as soon as you take a risk-free trial of The Altucher Report.
My hope is that for you as a reader, it will be like having a wealthy friend who's a Silicon Valley insider…
A friend who's an insider in the Manhattan financial world… and in the publishing and media world.
I'll share secrets, insights and ideas I promise you won't hear anywhere else.
But don't take my word for it.
Here's What Others are Saying About My Work
"This man has changed my life, and the lives of thousands of people that follow his every word. He is the most valuable mentor I have."
-Brian Rashid, Forbes Contributor
"I think that James is a national treasure and probably the most unique man anywhere right now in any kind of financial-related media."
Porter Stansberry, founder of Stansberry & Associates Investment Research
"James Altucher is scary smart."
-Stephen J. Dubner, 3 Times New York Times best-selling co-author of 'Freakonomics'
"James is very honest about his life. Both his Successes as well as his Failures. He is a relentless idea machine and forward thinker."
—Don M.
"I was deeply influenced by your insights at a point in my life where I needed change. Since then I have quit my job, started a company and we are actually raising money. So just saying thanks, what you are doing matters."
—Dan Darel
"I've been reading James' books, The Altucher Report, and listening to his podcasts for years. The reason why I've spent so much time listening to James is that he provides a TON of value."
-Bruce H.
I'm glad my work is already changing people's lives.
And I want YOU to be the next success story…
Starting with the once-in-a-generation opportunity in the cryptocurrency market.
I know there's nothing like my Cryptocurrency Package available in the market.
But I've seen some live cryptocurrency training selling for more than $2,000.
So I know I could easily sell this package for $199 on Amazon…
And that would be an incredible bargain.
But like I mentioned before, this is NOT for sale.
I'm making this available to my readers only.
That means today this package can be yours FREE…
As soon as you take a risk-free trial to The Altucher Report.
And don't worry…
You're not going to pay anywhere near $199 to take this risk-free trial.
I'll tell you more about this special offer in just a moment.
First, I'd like to make this deal even sweeter by adding three special gifts for you…
Bonus Report #1: The 48X Back-Door Way to the Cryptocurrency Market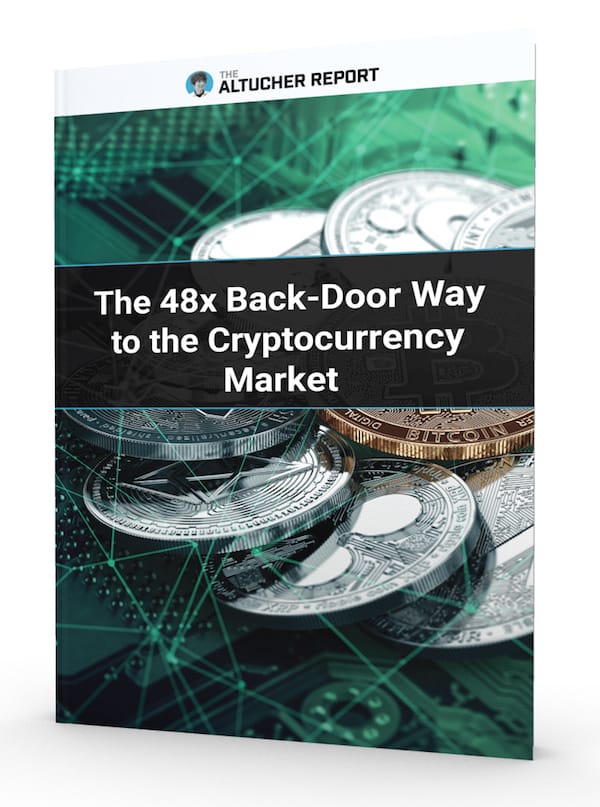 During the famous California gold rush, those who mined gold made a fortune.
But they were not the only ones.
Those who provided the miners with picks, shovels and other equipment needed for gold mining also walked away with fortunes.
The same thing will happen with the crypto rush.
I found a handful of public companies that are involved in the sector.
And you could easily beat the market with them… and make 5, 10 and even 20 times your money in the coming years.
For example, take my cryptocurrency stock #1…
This company produces the chips that are essential for the cryptocurrency industry to function.
No wonder the stock has already jumped 771% in the last couple of years…
In a time when the stock market went up just 16%!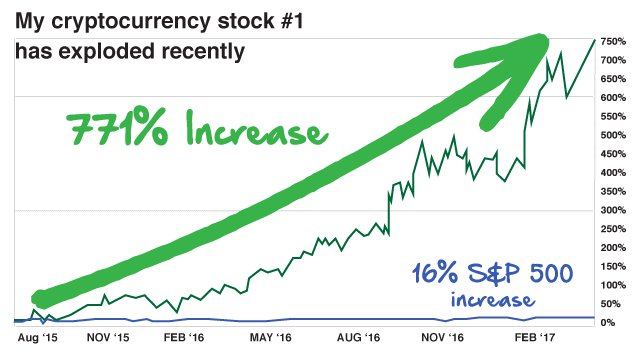 That means you could have made 48 times MORE money than the overall market… just in the last couple of years.
And that's just from one stock.
I've identified two other opportunities… one in the retail space… and one in the cybersecurity space.
And inside this report you'll get all the details on all three stocks…
The ticker symbols… the analysis… when to buy… how much to pay, etc…
This report is yours FREE when you take a risk-free trial of The Altucher Report.
Bonus Report #2: Make 1,000% from the Seven Biggest Money-Making Trends in America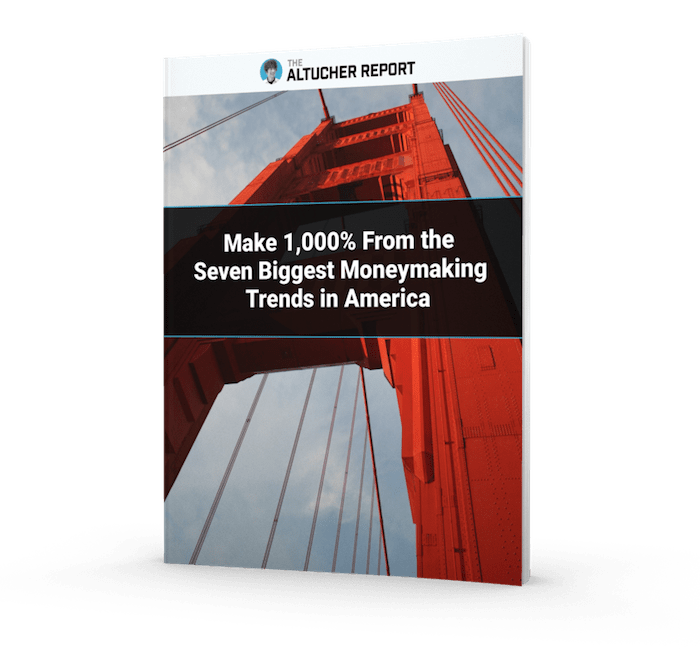 Most people never make 1,000% on a single investment in their lifetime.
But if you understand what's about to happen next… it really is possible.
And thanks to my extensive network that goes from Wall Street to Silicon Valley…
I tend to hear about investment ideas BEFORE they become popular.
And that's how you make BIG money… by getting in before the crowd.
This is exactly how I've made some great gains in recent years, including…
6,000% on an early investment in Buddy Media (a social media platform now owned by Salesforce)…
2,600% on an early investment in Ticketfly (a competitor to Ticketmaster, which lets you purchase tickets to events online)…
1,200% in a little-known cloud computing firm…
But that's the past…
Looking ahead, I'm now focusing on the seven newest and most important big trends in America today.
And for each trend, I've already identified the best way to play it in the stock market.
That's seven stocks that can help you make 1,000% gains in the next few years, as these trends "go mainstream."
You'll find all the details inside this second gift.
It's also yours FREE when you take a risk-free trial of The Altucher Report.
Special Bonus #3: My Book The Choose Yourself Guide to Wealth
The list price of this hardcover is currently $22.46 on Amazon.
But I'll give you an electronic copy of this book… absolutely FREE as a part of this offer.
This 279-page book is jam-packed with some of my best income secrets that I personally use to survive and thrive in the new American economy.
For example, you'll discover…
***How to make $40,000 a month on Amazon!
You'll be amazed when you learn how one of my friends is using Amazon to make more money than 95% of CEOs in the corporate world…
WITHOUT owning a company, sourcing products or hiring employees… (See page 181.)
***How to eliminate your debt in 30 seconds or less.
You'll discover a secret method you can use to get rid of your mortgage and credit card debt.
It has nothing to do with declaring bankruptcy, moving, or hiding your assets… and it's 100% legal.
But I have to warn you… this strategy is NOT for everyone. (See page 218.)
***How to use my "Idea Matrix" to create your own income… and never rely on corporate America or the government again!
Worried about depending on Social Security checks?
Anyone who learns how to use this secret tool may never have to worry about income again! (See page 19.)
***And much, MUCH more…
If you respond today to this special offer, you'll get immediate access to all of these moneymaking secrets — for FREE.
Just to Recap, Here's Everything You'll Get…
My exclusive Cryptocurrency Package, which includes my brand-new book Cryptocurrencies 101: How to Make a Fortune from Digital Currencies and my 6-video series Masterclass. (Value: $199)
12 issues of The Altucher Report. (Value: $99)
Bonus Gift #1: The 48X Back-Door Way to the Cryptocurrency Market (Value: $39)
Bonus Gift #2: Make 1,000% from the Seven Biggest Money-Making Trends in America (value: $39)
Bonus Gift #3: An electronic copy of my book The Choose Yourself Guide to Wealth (Value: $25)
Special "Members Only" Email Updates Wondering what to buy, sell or hold? As a member, you'll receive updates every single week on every important piece of news relating to the markets and any of the ideas I may recommend in The Altucher Report. (value: $19)
Access to the The Altucher Report Support Team. As a new member, you'll receive complete access to my support team, which can be reached by phone or email between the hours of 9 a.m. and 5 p.m. EST, Monday through Friday. (value: $19)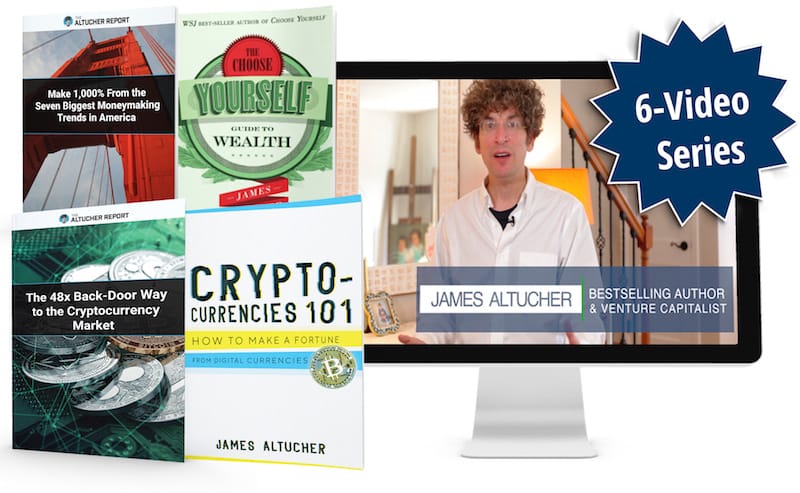 That's a total value of $439!
But with today's special offer, you'll NOT pay anywhere near that.
Here's what I propose…
Take a Full Year to Try It — No Pressure
Because of today's unprecedented situation in cryptocurrencies…
And because you probably don't fully know me well…
I want to make it as easy and hassle-free as possible for you to try my work.
So I asked my publisher to lower the price down to a level that would barely cover our publishing costs.
And we agreed on an incredible deal. Instead of paying the full value of $439… You'll only pay a tiny fraction… $49!
And it means that for just 13 cents a day, you can have a full year's subscription of The Altucher Report.
And you'll get everything else I promised today… including my Cryptocurrency Package.
I've also prepared a special "risk nothing, keep everything" guarantee.
When you sign up for The Altucher Report, we'll give you a full year to test out the service — at no risk to you.
During that year, you'll get 12 new issues — one a month.
If, during those first 12 months, you find you're not satisfied with The Altucher Report…
You can simply call or email our customer service team and cancel your subscription.
We'll give you a full refund, no questions asked.
And we'll let you keep everything you receive during your year as a subscriber — at no charge.
You can keep your book Cryptocurrencies 101: How to Make a Fortune From Digital Currencies .
You can keep your 6-video series Masterclass on Cryptocurrencies .
You can keep all the issues…
And you can keep ALL three bonus gifts.
***You can keep everything. This means there's no risk to you at all.
It's our way of saying thank you for giving The Altucher Report a try.
But Please Let Me Know Before February 2
As I showed you today, Amazon could make an announcement during its next conference call.
It's scheduled for February 2… precisely at 4 p.m. Eastern.
Dozens of cryptocurrencies could explode 100%, 500% and even 1,000% or more… that day alone.
If you wait until after the announcement, I'm afraid it will be too late.
The opportunity will be lost forever.
Remember, this is the biggest boom in history.
You will NEVER see this again… not in your lifetime.
This is your only and last chance to turn $100 into a retirement fortune.
It sure sounds impossible, but you know it's NOT!
It already happened with Bitcoin, where just $100 invested seven years ago… would be worth $6.8 million today!
And now it's happening again with smaller cryptocurrencies.
Today I showed you how Alan A. used these cryptos to turn $8,500 into $7.5 million… in just six months…
How Sean I. turned $15,000 into a $3 million fortune…
And how I recently made an investment that returned $1.8 million from a single trade.
When you think about it like that, you simply have to respond to this offer right away.
There's really no reason why you shouldn't…
Don't waste any time… or you will be left out!
Please click on the button below to claim your free Cryptocurrency Package…
AND a no-risk trial subscription (at today's substantial discount) to my research service, The Altucher Report.
Click the Button Below to Get Started on Your Path to Retiring a Millionaire
SUBSCRIBE NOW
(You Can Review Your Order Before it's Final)
I sincerely hope you join us today.
I've given you my very best price offer… and a "risk nothing and keep everything" guarantee.
***That means you have zero risk in joining us.
That's zero downside… for what could be your only chance of turning $100 into a retirement fortune in the coming months.
To get started, simply click on the button below.
It will take you to a secure sign-up sheet, where you can review everything one last time before you join.
Thanks for reading.
And I look forward to welcoming you to The Altucher Report in the next few minutes.
Sincerely,

James Altucher
Investment Director, The Altucher Report
August 2017
Written by: cryptoclass on November 15, 2017
ONE NOVEMBER EVENT
Will Send This Tiny Cryptocurrency Soaring
---
If you don't invest in cryptocurrency right now, you could regret it for the rest of your life…
If you have ever thought about cryptocurrencies as an investment, I urge you to listen to what I have to say.
Because if you make the right picks, you could find yourself jumping for joy on top of an enormous pile of cash.
Ready or not, a growing number of economies, banks, and billionaires are backing these new forms of tender.
And once you understand how easy it is to profit from cryptocurrencies , it's easy to see why…
The cryptocurrency market is preparing to take off.
Anything you've seen up to this point is going to be shadowed by the amount of money that's about to come pouring in.
And for investors who get in before November 30th, digital currencies are going to be a once-in-a lifetime opportunity…
And just one investment – even one under $100 – could put you one step closer to being wealthier than you've ever dreamt of…
And here's the best part…
You don't have to know a single thing about cryptocurrencies to build your fortune.
Just give me 5 minutes and I'll show you how…
The only caveat is that you must act quickly…
Because on November 30th, one event could send a tiny cryptocurrency soaring upwards of 319,000%
And all you have to do is wait for my word, and you stand to make millions in easy money.
Investors who wait idly on the sidelines until the media tells them 'buy now' are going to lose out on millions and potentially billions of dollars.
And if you wait for the media to tell you when cryptocurrencies are safe, you'll be doing just that…
Now, before I proceed, I have to tell you something…
It's not what you think…
I'm not talking about buying Bitcoin…
Jamie Dimon was right… Bitcoin is a fraud… It's useless.
And, I'm not necessarily talking about Ethereum.
You see, the easy Bitcoin money has already been made.
Ethereum still has plenty of upside potential, but…
If you buy Ethereum now, the most you'll see is hundreds of percent gains…
I'm not here to double or triple my money, when I can potentially create 10X, 100X or ever 1,000X my money on November 30th.
And any of my followers can tell you…
When I share an opportunity like this…
A lot of people can become incredibly wealthy
My name is Michael Robinson.
You might recognize my from my regular appearances on Fox Business, CNBC, CCTV, and MSNBC.
In the above video from 2014, I told Stuart Varney and guests that bitcoin was not over… not by a long shot.
If Stuart and his viewers had listened to me, they could have turned $1,000 into $253,000.
I have been a board member for a Silicon Valley venture capital firm and a senior advisor to 12 high-tech start-ups.
In the '80s, I was involved with sensitive military projects tied to President Reagan's Strategic Defense Initiative.
And in the late '90s, just north of Silicon Valley, I took part in mapping out what would become the $160 billion "cloud computing" industry.
In 2013, I told my readers about Bitcoin in my book, "The Bitcoin Virtual Roadmap."
Readers who took action when I said to had a chance at seeing 569% gains in less than 6 weeks.
And if those readers had held for 6 more weeks, they could have seen gains of 1,663%.
Take Joshua Herring…
He started making money immediately…
Nowadays, you're probably getting tired of hearing about smart homes, smart cars, smart phones, smart frying pans – every smart gadget.
Well I was "in" early on that massive trend as well.
And when North America started having a conversation about the legalization of Marijuana, my readers had a chance to turn even bigger gains!
Readers like Barry Ponce.
He says he made over $39,000 in a month and a half.
And Jeff Wentz says he made nearly $45,000 – in under a month. Now he's targeting his first million.
And so far this year, a whopping 97% of my trades have been winners.
I want to repeat that…
This year, 97% of my recommendations have been winners.
But that's all in the past.
The opportunity I'm talking about today has the potential to mint millionaires virtually overnight.
And it all starts in a few short weeks, on November 30th.
I'll tell you more about that in a few minutes.
Right now, I'd like to give you a quick rundown of my three rules for buying cryptocurrencies .
If I want to keep my 97% win rate, every cryptocurrency I touch must adhere to every single one of these rules.
Rule #1: The Asset Must Have Intrinsic Value
When Bitcoin first launched – the concept was simple: An electronic payment system based on mathematical proof.
The idea was to produce a currency independent of any central authority, transferable electronically, more or less instantly, with very low transaction fees.
Ethereum took the concepts that drive Bitcoin's growth several steps further…
The Ethereum blockchain not only provides greater security, anonymity, and functionality; it also gives the Ether tokens intrinsic value.
The value of Ether tokens is based upon the demand to build on the Ethereum blockchain.
Because of Ethereum's superior security, and functionality, Significantly more fortune 500 companies are building platforms on the Ethereum blockchain than any other.
Just look at some of the players…
From banking giants like…
J.P Morgan
Credit Suisse
UBS
ING
National Bank of Canada
And more…
To other multinational corporations like…
BP
Intel
Mastercard
Samsung
Toyota
Microsoft
And more…
In all, there are over 100 companies, including the ones above, who are members of the Enterprise Ethereum Alliance (EEA).
The EEA connects Fortune 500 enterprises, startups, academics, and technology vendors with Ethereum.
That means they're betting big on Ethereum.
And with every application they build on the Ethereum blockchain will come a Fortune 500 bump in demand for Ether.
Ether is designed to be safer than the U.S. Dollar, or physical gold…
And, Ether's intrinsic value is the crux of its design.
Rule #2: The Asset Must Be New… But Not Too New
You may have see this chart before…
You're looking at the 5 Customer Segments of Technology Adoption.
And I'm going to show you exactly where you want to buy a cryptocurrency.
Segment #1: Innovators
Innovators get in on the groundfloor of some very interesting startups.
But without awareness from the general public, they have no way of telling whether a technology will thrive.
I do not recommend you buy a cryptocurrency at this stage.
It's too risky for me…
Remember, I have a 97% win rate to uphold.
Segment #2: Early Adopters
Consider the early adopters, "testers."
Early adopters basically decide whEther a technology is useful or not.
They tell us whEther our cryptocurrency is worth what its creators have touted.
They're still in a risky spot – just not nearly as risky as the innovators.
Segment #3: Early Majority
If you invest here…
Cross your fingers and hope your investment is a sure thing…
Because you'll be lucky to even see gains of 20% in a year.
I believe this is where we are with Bitcoin — and that well may have already dried up.
Segment #4: Late Majority
The late majority are typically skeptical about innovation…
Many of my readers fall into this category.
I get it… And it's ok.
They're the readers of mine who are genuinely overwhelmed with the fast pace of the technology world, but they understand how important technology is to the current (and future) U.S. Economy.
They read my work so they can comfortably invest in technology without having to worry about what the newest iPhone will mean for Apple shares; or what the Presidents Tweets mean for Twitter stock.
The majority are some of my biggest supporters, and I've helped a lot of them become very wealthy over the years.
Segment #5: Laggards
No matter how technologically illiterate you are, you do not fall into this group.
After all, you're reading this letter on a device that's connected to the internet.
Laggards may not even be using digital computers yet.
These are the folks who invest by burying gold in their back yards, because they don't even trust banks.
I get it… I'm ok with them, too.
I just wish I could teach them about cryptocurrencies .
Because cryptocurrencies were built out of distrust for banks.
And they have several advantages over banks…
Cryptocurrencies Are 100% Anonymous
I don't mean "anonymous" like, no one will be able to track how much money you have invested in cryptocurrencies , or whether you made a transaction or not.
That part is airtight. Better than any bank today.
I mean, no one has to know your personal details.
Think about it like this – your bank might use your social security number to connect your assets and make assumptions about how you should invest.
cryptocurrencies and blockchains instead use a unique ID.
Meaning, your personal information, like Social Security Number, is at a significantly lower risk of ever being stolen.
Yes, that's right…
The use of cryptocurrency, and blockchain could have prevented last month's data breach that threatens the safety of all of our personal information.
Cryptocurrencies Are 100% Legal Tax Havens
So, not only are some blockchains safer places for your money than banks…
They're also legal tax havens.
You see, any money you keep in Ethereum is non-taxable.
It's like keeping your money in a Cayman Island bank account…If the Cayman Island bank offered a potential for an exceptional 319,000% gain.
So, when should I buy?
In my years as a silicon valley venture capitalist, I'd buy, and recommend during the innovators stage
I even place my stock recommendations there…
The world of cryptocurrencies is different.
It's volatile, and unpredictable.
The downside for innovators is HUGE…
And the upside for the early majority is still larger than even the riskiest conventional investments.
That's why I recommend buying when the early adopters stage is exactly 75% complete.
Investing at this stage can help avoid a vast majority of risk, and puts us in position for the fastest and easiest gains.
Rule #3: The Asset Must Be an ERC-20 Token
I could go on and on about the benefits of ERC-20 Tokens…
But, I'll spare you the technical jargon.
In short, ERC-20 tokens are cryptocurrencies that are built on the Ethereum blockchain, and must comply to a specific set of standards.
As previously mentioned, Ethereum is the most powerful blockchain in existance.
ERC-20 tokens are able to harness the security and power of the Ethereum blockchain, and also nourish growth through projects independent of Ethereum as a whole.
So you can buy an ERC-20 cryptocurrency, gain thousands of percentages regardless of what Ether is doing.
And, at the same time, investors who buy a completely separate ERC-20 cryptocurrency should increase the price of Ether, and therefore your cryptocurrency.
ERC-20 tokens present the definition of "having your cake and eating it too."
I want to tell you a story…
I love America… and I love the freedom and opportunity it creates for us.
This is a story about opportunity in America…
And I think it illustrates the opportunity that's taking place for every day Americans right now.
The opportunity to create wealth for your family for centuries to come…
The year is 1849.
America was in expansion, and California was growing.
The Spanish (Innovators) who made it out there first, had no idea what mix of opportunity and disaster the new land would bring.
They were looking for gold, but never found it.
Social strife and economics, and the knowledge that California was not out of reach drove more Americans (Early Adoptors) westward.
And, one day – in what we refer to as "the bay area" of California – gold was found.
Not just a little bit of gold…
Enough gold to make the early adapters some of the wealthiest Americans at the time.
Back east, word of the gold strike spread like wild fire.
Now, tens of thousands of Americans (Early Majority) en route to California had one thing on their minds: Gold
Swarms of Americans risked life and limb to make the journey…
And by the time they arrived…
It was too late.
Gold was few and far between.
The early adapters had already claimed almost all of the gold.
The rest of the new Californian settlers had to mine tirelessly for little more than dust.
The story of the California gold rush is almost exactly the same as what's happening now – and what's about to happen this year – except for three facts:
There is significantly more wealth to be made today, with cryptocurrencies.
Building a fortune in cryptocurrencies requires almost no work. (You can trade on your smart phone).
You don't have to risk more than $100 to potentially make millions.
I can't stress this enough…
The digital currency boom that's happening right now is a once-in-a-lifetime opportunity.
You may never have a chance to make this kind of money, this easily, ever again in your life…
Making Millions In cryptocurrencies Is As Easy as Investing Gets
Ordinary Americans have been able to build massive fortunes…
Buying up small amounts of cryptocurrencies with their spare change here and there…
They're watching as their pocket change turns into a six-figure payday.
And I'm Going to Make It Even Easier For You
Now, if you've listened to anything I've had to say today, you're asking yourself three questions:
1. What is the next cryptocurrency to take off?
2. What is this event Michael mentioned earlier?
And 3. How do I get in?
That's where I come in…
The time I've spent working with high-tech start-ups has given me access to information less than 1% of crypto investors have access to…
And I have the smartest and most-dedicated research team in the industry.
With them at my disposal, we can evaluate all of the potential initial coin offering (ICO) opportunities…
And find the ones that could mint you a millionaire in a matter of months… weeks… or even days.
Prospective investors would be wise to note that.
The Money Is Pouring In…
Billionaire investor Michael Novogratz estimated that the crypto currency market could reach 5 trillion as early as 2022.
And what's more… ICO funding hit a record $800 million in Q2 2017.
The cryptocurrency industry is ripe… Right where we want it.
So all you have to do is:
Wait a few weeks for this event to occur…
Follow my lead…
And all you have to do is claim your payout.
Now…
What's important to focus on right now for new investors is a single, binary event that is set to send the entire crypto-space into a parabolic rise.
And it's coming sooner than you think.
Things Are Moving Quickly…
Russia, a country that had outlawed cryptocurrency in 2016, is now moving towards full legalization.
In fact, Vladimir Putin recently sat down with one of the founders of this cryptocurrency to discuss using it as a tool to diversify the Russian economy.
The Emirate of Dubai has also expressed serious interest. Crown Prince Sheikh Maktoum says he wants Dubai to "execute ALL transactions" with a program that includes this universal currency "by 2020."
Even the White House is signaling that it is preparing for a future with blockchain technology at the forefront. Chris Liddell, assistant to the president and director of strategic initiatives at the White House said that "Perhaps most important … is implementing foundational data standards now, so that the U.S. can be in position to harness the potential of blockchain and other technologies moving ahead.
"As we look to the future, we want to ensure that today's reforms do not hinder tomorrow's adoption of emerging technologies," he said…
It doesn't take a genius to see that cryptocurrencies could be the future of money.
And my research indicates that Ethereum could give investors an even bigger return than Bitcoin.
The reason is simple.
A Single Massive Development Could Make This Blockchain Reach Billions of People.
Where once you had a few cryptocurrencies on the fringe…
Now you have a cryptocurrency eco-system – with millions of investors raking in cash from this emerging technology.
And while Bitcoin has been around since 2010 and most of the huge gains have already been made…
Ethereum is still only 2 years old, which is why investors are feverishly bullish on this promising new technology.
Like I mentioned before, there is a major catalyst that will signaling exactly when and what to buy.
The last time this event occurred… the price of Ethereum jumped over 100%.
Since then, ERC-20 tokens have grown 20X that.
And the next phase is rumored to be only weeks away.
My "formula" indicates that this event is going to be the defining moment for Ethereum, and ERC-20 Tokens.
I detail the entire strategy in my briefing, The complete blueprint for profiting from today's (and tomorrow's) cryptocurrency boom.
This includes The Beginner's Guide to Cryptocurrency – which will take you from novice to expert in no time.
In this report, I've outlined everything you need to know to make your first step towards making thousands, if not millions from the cryptocurrency boom.
This report is valued at $149…
…and I'm going to give it to you for free.
I guarantee you are joining something revolutionary.
A year from now, you'll look back and think "I'm going to be telling this story for the rest of my life."
And to show you just how certain of that I am, we're going to give you another gift…
It's called The Cryptocurrency Secret Weapon: Your Roadmap to the Digital Treasure Trove.
It contains proprietary advice detailing exact steps to make the best investments for your hard-earned money…
Including what to do before, during, and after the upcoming catalyst that could deliver 319,000% returns virtually overnight.
In plain English, I've laid out which ERC-20 tokens, powered by Ethereum, could dominate the blockchain and its technology.
The Cryptocurrency Secret Weapon is currently valued at a retail price of $299…
We're also going to give you that FREE of charge.
And for my readers today, I have one more special offer…
It's called Three Stocks Set to Soar from the Cryptocurrency Boom.
The catalysts we discussed today won't just effect the price of cryptocurrency itself…
It could also have set a few stocks soaring…
We've scoured the markets and found the three in the best position for massive windfalls.
You should have no problem purchasing shares of these stocks directly from your broker or your brokerage website…
And again, I'm just going to give you this…at no cost.
I am going to make this as easy as possible for the people who want a shot at the massive money in cryptocurrencies right now.
All you have to do is to become one of the first 1,000 people who agree to a 100% no-risk subscription to Nova-X Report.
The Nova-X Report is your investment research newsletter focused on small little known companies from Silicon Valley and the tech industry.
With The Nova-X Report I'm looking for small companies with a stranglehold, could be a technology, a medical treatment, a process innovation…
If this gives them a stranglehold on a sector with billions of dollars of potential that's what I'm looking for.
The Nova-X Report takes folks behind the curtain, so to speak, so they can tap into the greatest source of individual wealth creation in the history of the human race.
Venture capitalism.
Just like Bitcoin, for instance. It was the hottest investment story back in 2013 and 2014.
In June of 2013, I alerted readers that the time to get into this digital currency had arrived.
That's because just weeks before, I had met with several CEOs, founders, and venture capitalists in California. They were at the forefront, developing the currency exchanges and investment funds that would push Bitcoin into the headlines.
At that time, Bitcoin was trading for $90.
Bitcoin skyrocketed 1,192% over the five months that followed.
It peaked at $1,163
People from across the country were making hundreds of thousands of dollars.
Some were even banking millions.
I look at investing in Ethereum and ICOs today just like I did Bitcoin back then.
I believe it gives you the chance to become a millionaire.
That's why I'm in this business – I want every one of my readers to have a shot at making a fortune for themselves.
I was one of the first to recognize the potential for huge profits from rare earth metals because I personally knew the advisors and board members of many rare earth mining companies.
This allowed me to target four specific companies – Rare Elements Resources Ltd., Avalon Rare Metals Inc., Quest Rare Minerals, and Great Western Minerals Group.
TogEther they delivered 990% total gains in only 16 months.
And across the board, my team and I at Money Morning have time and time again brought the hottest venture capital-like stock opportunities to our readers.
Ambarella… Celldex Therapeutics… Ram Energy Resources… Westport Innovations… Pharmacyclics…
Some of these we've already closed out.
Others are still open, and their peak gains are enormous.
These are the types of opportunities I bring readers of the Nova-X Report.
Every month I send members a hard copy and a digital version of each new edition of The Nova-X Report.
Each edition comes with two exciting investment opportunities I've personally vetted.
For instance, in a recent Nova-X Report, I shared a pioneer in "cryopreservation" technologies.
This is just starting to be used in cardiac and vascular surgeries involving implantable living human tissue.
Already, 1,000 surgeons at 800 facilities in the U.S. are implementing this company's breakthrough.
But the growth is about to expand to 75 nations.
In another Nova-X Report edition I found a company that developed a "honeycomb" advanced material. It could create the lightest and fastest aircrafts in history.
From drones to miracle materials like graphene, 3-D bioprinting, "big data" – we've targeted opportunities in all of these areas…
Each monthly edition of the Nova-X Report provides a streamlined analysis of two massive trends and a thorough examination of two investment targets.
I'll cover each company's financial strength, proprietary technologies, sources of venture capital funding, and profit projections.
Then every week I'll release the Nova-X Progress Report.
This keeps readers up to speed on any new developments, product launches, earnings reports, and current gains
And whenever the moment arrives to collect any profits, you'll receive an instant trade alert.
For instance, with Micron Technologies, folks following my research had the opportunity to get in and out of that trade in a single day.
One reader even let me know he captured 140% from that play while on a cruise.
Membership also includes 24/7 access to Nova-X HQ.
This is my exclusive website where I store every intelligence briefing, investment recommendation, and alerts.
And if members have any administrative questions with their subscription, I encourage them to take advantage of The Nova-X VIP Concierge Service.
Today and today only I'm authorizing something special for folks who take action today.
This is something I've never done before…
I'm going to let folks try Nova-X for only $5 – the cost to cover our shipping. So it's more or less a free trial.
Like I said, I've never offered Nova-X Report for so little.
But I want to do this for a very specific reason.
A lot of readers tonight are readers of my Strategic Tech Investor and they know that I came out way before the recent surge in Ethereum.
I predicted the run would be historic…
And that's exactly what happened.
And for the thousands of folks who've already joined Nova-X… received my initial research on cryptocurrency- and made small investments in Ethereum-well the payoff was enormous.
Like I mentioned, recently Ethereum began absolutely exploding.
Folks had the opportunity to make thousands upon thousands of extra dollars.
And a small stake in this red hot market could have made them instant millionaires.
So I congratulate those people for going with their gut – being bold – and making the move to invest in Ethereum.
As I said before – I am looking at Ethereum purely as a market analyst. When it comes to cryptocurrencies , all I care about is can investors make money in this market.
And the answer is heck YES – and tons of it.
A lot of folks stood on the sidelines the first go round.
But I sincerely don't want them to miss this next big opportunity.
A small stake in the cryptocurrency I'm recommending could make you more money in the stock market than you've ever made in your life!
Remember, big catalysts are coming.
So, I also don't want you to miss out as this cryptocurrency flies even higher than before.
That's why I'm letting everyone get all three of my cryptocurrency investment reports for free along with a trial subscription to my Nova-X Report for just $5 – the cost of shipping.
I don't want price to be a deciding factor.
I am going to do anything I can to give my readers a real shot at these life-changing gains!
Again, let me repeat myself.
This $5 deal is only being offered right now on this page.
After today the cost will be $299.
But if you're listening right now, and you click the button that will appear on your screen, you can try Nova-X right now for only $5.
Accept this no-risk trial and you'll get 12 issues of the Nova-X Report – a $299 value.
That will tap you into 24 ultra-lucrative investment opportunities straight from the world of Silicon Valley.
Plus, I will immediately send you my top 3 cryptocurrency stock picks in Three Stocks Set to Soar from the Cryptocurrency Boom
And my reports The Beginner's Guide to Cryptocurrency and The Cryptocurrency Secret Weapon: Your Roadmap to the Digital Treasure Troveabsolutely free.
These reports include a look at Ethereum's advantages. And why this cryptocurrency is poised to overtake Bitcoin in coming years.
And just to put your mind at ease should you be dissatisfied in any way, I'm also authorizing a 30 day money-back guarantee.
If at any time during the next 30 days, you feel this isn't right for you…
Simply contact me, and I will instantly return every penny of your membership dues. No questions asked.
You can keep the report: Three Stocks Set to Soar from the Cryptocurrency Boom. And the guides The Beginner's Guide to Cryptocurrencyand The Cryptocurrency Secret Weapon: Your Roadmap to the Digital Treasure Troveas my gift regardless of your decision.
edented opportunity – you really have absolutely nothing to lose by giving Nova-X Report a try!
But you must act fast, because as I said, there are only 1,000 spots available today.
And in an industry this hot… those 1,000 spots are going to go quickly.
Remember – it's a mutually beneficial relationship. You could have the potential to change your financial security for life, and I could have yet another person that I can call a satisfied subscriber.
To claim yours, simply click the button below.
I look forward to working with you in the future.
This is Michael Robinson, signing off.
Michael Robinson
Director of Venture Capital and Technology Investing, Money Morning
October 2017